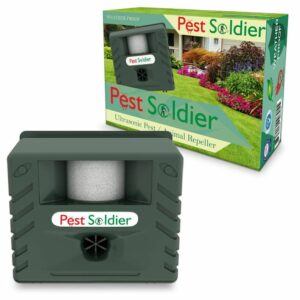 Our Pest Soldier Sentinel review will demonstrate why we believe this is the best ultrasonic deer repellent on the market today.
Very few ultrasonic deer repellents live up to their claims. They often fail to emit the proper frequencies to deter deer for any meaningful length of time. The few products that do emit the correct frequencies usually suffer from issues such as inadequate range, poor craftsmanship, and/or aren't weatherproof.
However, the Pest Soldier Sentinel alleviates all of these concerns. It delivers a perfect, consistent frequency which deters deer and ensures that they don't return.
Pest Soldier was one of the first companies to create ultrasonic deer deterrents. As such, this product benefits from all of the research that they've done over the years. They have mastered the art of deterring deer with audio cues.
Now let's check out some of this product's features.
Product Features
This product has a coverage area of up to 5,000 square feet which is more than virtually any other product on the market.
The Pest Soldier Sentinel is completely programmable. It gives the user control over the unit's operating time. The Sentinel can be set to either day, night, or around the clock protection.
A built-in infrared motion detector means the unit will only operate when it detects deer are present. This powerful infrared sensor saves a considerable amount of power by only emitting sound when needed. However, it can also be set to remain on constantly if you desire.
This unit is completely weatherproof. It can be left outside all year without worrying about it getting damaged. It's durable casing ensures the elements stay out so that it can keep doing its job.
The green outer shell is very discrete. It can be placed in virtually any landscape completely undetected to the naked eye. The included screws and anchors make mounting a seamless task.
A sonic repeller setting allows the user to select how audible the unit is. It can be loud (more effective) or completely inaudible to humans while remaining effective.
The unit can also be set to deter cats, dogs, mice, squirrels, fox, rats, skunks, raccoons, birds, bear, deer, insects, and more. In addition, it can be set to deter all of these creatures simultaneously by using the continuous sweep function.
It can be powered using the included AC adapter or batteries (not included).
This ultrasonic deer repeller is a very humane means of getting rid of deer. It doesn't use potentially hazardous chemicals like other deer repellents on the market today.
The Pest Soldier Sentinel measures 9.8″ wide by 7.3″ high by 4.2″ deep and weighs 1.4 lbs.
Check out the video below for this man's experience with the Pest Soldier Sentinel:

What People are Saying
92% of Amazon purchasers rate the Pest Soldier Sentinel between 4 and 5 stars. This extremely high rating speaks volumes about the unit's effectiveness.
People claim that this product is the best performing ultrasonic deer repeller they've ever used. It does a great job at preventing damage to shrubbery and desirable plants.
Some note that they place one in their front yard and another in the back yard to deter deer and protect their entire property.
Aside from keeping deer off their properties, they also found that it does a tremendous job at keeping other undesirable animals away as well.
Users also love the ability to adjust the unit to their liking. They can choose for the sounds to be inaudible, target specific animals, and/or select how often the unit operates.
They love the fact that it can be plugged in or used in remote locations with the use of batteries.
Overall, purchasers show an overwhelming appreciation for this product and how it has alleviated their deer related problems!
Bottom Line
We believe the Pest Soldier Sentinel is clearly the best ultrasonic deer repellent.
Unlike most ultrasonic deer deterrents, it does everything it claims to do.
It gives the user a tremendous amount of control to cater to their preferences.
All one has to do is look at the impressive product ratings to understand why this is one of the best deer repellent products on the market.
When considering ultrasonic deer repellents, keep the Pest Soldier Sentinel at the top of your list!
Click Here to Check Price on Amazon
We hope you enjoyed our Pest Soldier Sentinel review. Please feel free to share or leave comments below!