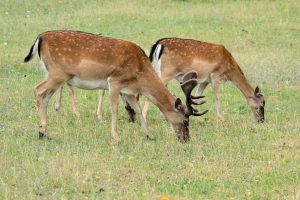 First and foremost, it's worth noting that a deer fence is the only surefire way to prevent deer from entering a specific area.
With that being said, a high quality all natural deer repellent spray is a close alternative and one of the most effective means of keeping deer away.
It creates an invisible barrier which engages the animals' sense of smell and taste to dissuade them from coming near.
They find these smells and tastes repulsive and therefore lose interest very quickly.
With all of the products available for this purpose, we've combed through virtually all of them to present you with the products with the highest success rates and customer satisfaction ratings.
In addition, we've made sure that all of the recommended products are made only from all natural ingredients and are completely chemical-free. The last thing you want to do is spray harmful chemicals on your desirable plants. These products are completely harmless to pets and humans when used as directed.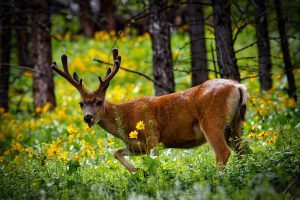 We have also ensured that each of the products we recommend have a 100% money back guarantee in the event that you're not satisfied with the results.
These sprays are considerably more convenient and effective than most homemade deer repellent recipes you'll find on the web.
The only downside to this form of deer repellent is that it requires periodic reapplication (normally monthly to bi-monthly).
As always, we only recommend purchasing these products in concentrate form as you can make significantly more usable product for much less by simply mixing it with water.
Below we will provide you with our favorite deer spray repellent products in no particular order. In addition, we will give you a brief synopsis on the sprays, customer experiences, and links to the full review articles.
We consider this particular product to be one of the best deer deterrent spray products currently available.
It does an amazing job at keeping deer away and has even been shown to be the closest alternative to a deer fence in this independent study.
This product is made from natural ingredients such as putrescent eggs, enhanced wintergreen, fish meal, garlic, and other proteins.
It is applied directly to the plants you want protected every 1 to 2 months.
This concentrate has received thousands of rave reviews across the web.
People swear by this product and state that it has allowed their plants to grow freely without the threat of deer-related destruction.
As stated before, we think this is one of the best deer repellent spray products on the market and is one you should definitely consider!
Click here to see our in-depth Bobbex Deer Repellent Concentrate Review
Liquid Fence is another very successful deer deterrent spray repellent worthy of inclusion on our list.
It has earned its reputation as one of the most effective sprays and has tons of satisfied customers.
2 of the main ingredients in this product are putrescent eggs and garlic.
Liquid Fence is made from natural, bio-degradable ingredients and is safe for direct application to your desirable plants.
An application of this product is stated to last for up to 1 month.
Liquid Fence customers couldn't be more happy with their purchasing decision.
It has helped them get rid of their deer problem for years and has many loyal customers.
This is one of the best deer repellent sprays on the market and certainly one that should be at the top of your list!
Click here to see our in-depth Liquid Fence Deer Repellent Concentrate Review
This is another fantastic natural deer repellent option.
Deer Stopper is an extremely effective deterrent and one of the best selling deer repellent sprays on Amazon.
It is safe for direct application to fruits and vegetables.
This product will remain effective for about a month before requiring reapplication. Furthermore, it remains very resilient through all sorts of inclement weather conditions.
The lion's share of purchasers have noted a complete absence of deer since using this product.
They say that it's been considerably more effective that other sprays they've used in the past.
We consider this product to be one of the best deer repellents available and highly recommend you trying it out!
Click here to see our in-depth Messina Deer Stopper Deer Repellent Concentrate Review
Deer Out is a phenomenal spray repellent and has been around for quite some time now.
It is one of the highest rated sprays on Amazon with many happy customers.
As a matter of fact, Deer Out claims that it has over 100,000 repeat customers!
With numbers like that, it's hard to dispute the efficacy of this product.
One of the prime ingredients in this product responsible for repelling dear is peppermint oil.
It also contains 2 natural ingredients that keep the formula adhered to plants. As a result, users can go as long as 3 or more months before having to reapply the product.
People absolutely love Deer Out and continue to use it year after year!
It has eradicated deer from their properties and saved them boat loads of money.
We can't say enough good things about Deer Off and highly suggest you give it a shot!
Click here to see our in-depth Deer Out Spray Review
The final product on our top 5 list is Havahart's Deer Off.
This amazing deer repellent is one of the most popular and for good reason!
It gets rid of deer very well and does so by using the highest concentration of putrescent egg on the market.
A single application lasts as long as 90 days in all sorts of weather conditions.
Most people note that deer-related damage has been significantly reduced since using this product.
Although, there is some controversy as to whether the application duration of 90 days is accurate.
While it hasn't received ratings as high as other products on this list, we consider it to be one of the better sprays out there and worthy of your consideration.
Click here to see our in-depth Havahart Deer Off Concentrate Review
Bottom Line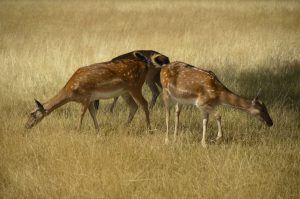 You really can't go wrong with any of the aforementioned products.
They all make short work of getting rid of deer while using natural ingredients that are safe for your family and pets.
All of these products have received stellar reviews with money back guarantees to back up their performance.
In addition, they all dry clear and odorless with little indication that they were ever applied.
We consider these all natural deer repellent spray products to be more effective than most of the homemade deer repellent recipes out there.
Lastly, we wish you the best of luck in your effort to get rid of deer and hope you'll return to share your experiences!
Check out our comprehensive list of natural deer repellents that work!
Please feel free to leave comments below!