Today we will be showing you some of the best deer fences for gardens and yards!
We always advise trying an electronic or natural deer repellent as a first line of defense. However, deer can be awfully resilient and the only answer may be a physical barrier such as a deer fence.
Most of the fencing material found in local hardware stores and the internet are made from cheap, flimsy materials. The $20 price tag may look enticing but it doesn't take long for deer to destroy these types of fencing and reach their desired areas.
Our goal today is to provide you with some of the best rated, heavy-duty deer fences on the market today along with the necessary deer fencing materials needed to construct a deer fence.
We will also provide you with our deer fencing ideas and links to the necessary mounting hardware to get your fence up and running.
Check out some of our favorite products below.
Easy Gardener Deer Barrier Fencing
One of our favorite physical barriers is the Easy Gardener Deer Barrier Fencing mesh.
It does an amazing job at protecting your landscape from the damaging effects of deer.
This strong and lightweight fencing material is UV protected and will last for years in the harshest of environments. It will not rust or corrode like metal fencing and it also blends into landscapes much better.
The fence is 7 feet high by 100 feet wide and easily attaches to wooden or metal posts.
Check out the video below to see this woman's deer fencing project using Easy Gardener's Deer Barrier:
Reviewers note the complete absence of deer within the fenced area since installing.
People love not having to worry about intruding deer and damaged crops anymore.
The fence has also kept out other nuisance animals; further protecting their gardens and yards.
Overall, purchasers are very grateful and happy for their decision to go with this fencing material!
Click Here to Check Price on Amazon
Tenax Deer Fencing
Another one of our favorite physical barriers is the Tenax Deer Fencing mesh.
This is an extremely heavy-duty material that is sure to protect your landscape from deer damage. It has a breaking load of approximately 600+lbs.
It measures 7.5 feet high by 100 feet wide and the mesh squares measure 1.75 inches by 2 inches.
The durable plastic material is very flexible and is easy to fold as needed.
Just like the Easy Gardener fencing material, this one has shown remarkable results.
Purchasers note that their desired areas are completely protected since installing this deer fencing.
It has proven to be a big success for them and they love how it requires virtually no maintenance.
Click Here to Check Price on Amazon
Mounting Hardware
One of the most important deer fencing materials you need besides the fencing mesh are deer fence posts.  These posts are what your fencing mesh will be attached to in order to create a physical barrier around your desired area.
It is important that your deer fence height be at least 7 feet tall as this is the approximate height that deer can jump.
In order to obtain this deer fence height, it's imperative that you choose deer fence posts that are at least 8 to 9 feet tall as a portion of the post will be inserted into the ground. We recommend 9 ft posts so that you don't have to worry about how far you drive the posts into the ground.
Driving these posts can be an arduous task. That's why the use of a post driver with handles makes the job significantly easier. It allows you to quickly and effectively drive posts deep into the ground to provide a sturdy foundation for your deer fence.
Speaking of driving posts, it's important to know the correct deer fence post spacing. Obviously, the closer the posts are together, the more sturdy the fence will be. We generally recommend a deer fence post spacing of approximately 10 to 15 feet apart. This provides a sturdy, long-lasting structure that will keep deer our!
Lastly, use zip ties to affix the mesh to the posts. This is the easiest way to make sure your deer fence stays attached and doesn't sag.
Bottom Line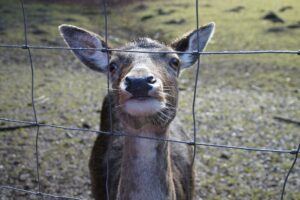 We really hope you enjoyed reading about some of our deer fencing ideas.
The combination of a reputable deer fencing mesh and posts will provide you with a durable deer fence that will last you many years.
The aforementioned products are most certainly some of the best deer fences for gardens and yards!
If you're at a loss for designing your deer fence, have a look at these pictures for some ideas.
We wish you the best of luck in constructing your deer fence!
Please feel free to leave comments below!