Plantskydd Deer Repellent Concentrate is one of the better products out there for getting rid of deer.
It has plenty of satisfied customers across the web who attest to its performance.
This all natural deer repellent does a great job at keeping deer out of your gardens and yards.
Plantskydd Deer Repellent was originally designed to protect commercial forest planting in Sweden and is now used worldwide to prevent deer-related damage.
Unlike most deer repellent concentrates that come in liquid form, this one comes as a powder.
We only advise getting the concentrate form of this product and not the pre-diluted version. This is due to the fact that you get far more usable product for the money by simply mixing it with water yourself.
In addition, a full money back guarantee is provided with this product in the event you're not satisfied with the results.
Below we will provide you with some of the product features, Plantskydd Deer Repellent reviews and where to buy Plantskydd Deer Repellent.
Product Features
This deer repellent is made from all natural ingredients and is safe for use on flowers, ornamentals, seedlings, shrubs, trees, fruit, vegetables, and other food crops.
As a matter of fact, it is deemed safe for use on organic crops.
The active ingredient in this deer repellent is dried blood meal. Deer find this odor repulsive and refrain from coming near.
This product is suitable for year round use. It will last for up to 4 months during growing season and 6 months during dormant season.
In addition to deer, this product is effective at deterring Elk, Moose, Rabbit, Hares, Voles, Squirrels, Chipmunks, Mountain Beaver, Nutria, Opossum and other herbivores.
This product contains 2.2lbs of powder concentrate and is mixed with water in a spray bottle such as this.
Once diluted, there will be 2.5 gallons of usable product which is enough to treat approximately 900 plants 1 foot in height.
For more information on this product and frequently asked questions, please visit Plantskydd's FAQ page.
Check out this Plantskydd review below:
What people Are saying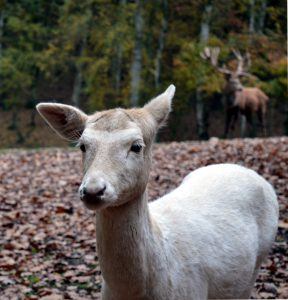 The Plantskydd Deer Repellent reviews are pretty astonishing.
There are tons of satisfied purchasers who have been using this product year after year.
They state that it keeps deer far away from their gardens while producing no noticeable odor.
People have noted increased effectiveness with frequent application of this product.
Many users state that it's the only product they've had success with and there are some people that have been using it in excess of 10 years.
Overall, there are quite a few happy customers who use this as their primary deer repellent.
Bottom Line
We give Plantskydd Deer Repellent Concentrate our seal of approval!
The overwhelming success that people experience with this product speaks volumes about its effectiveness.
One of the things we love most about this product is its application duration. It is considerably longer than most of its competitors.
Furthermore, the money back guarantee removes much of this risk of this purchase.
We think this is one of the better deer repellent sprays out there and most definitely one you should think about using.
See the link below for where to buy Plantskydd Deer Repellent.
Click Here to Check Price on Amazon
Check out our Top 5 all natural deer repellent spray products list for some alternatives to this one.
Please feel free to leave comments below!